Life Petaled with Love
SOURCE for the following information:
http://www.christianity-revealed.com/cr/files/whensamesexmarriagewasachristianrite.html
WHEN SAME-SEX MARRIAGE WAS A CHRISTIAN RITE1
By ThosPayne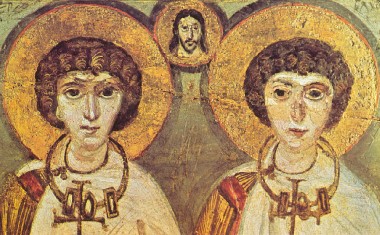 A Kiev art museum contains a curious icon from St. Catherine's Monastery on Mt. Sinai in Israel. It shows two robed Christian saints. Between them is a traditional Roman 'pronubus' (a best man), overseeing a wedding. The pronubus is Christ. The married couple are both men.
Is the icon suggesting that a gay "wedding" is being sanctified by Christ himself? The idea seems shocking. But the full answer comes from other early Christian sources about the two men featured in the icon, St. Sergius and St. Bacchus,2 two Roman soldiers who were Christian martyrs. These two officers in the Roman army incurred the anger of Emperor Maximian when they were exposed as 'secret Christians' by refusing to enter a pagan temple. Both were sent to Syria circa 303 CE where Bacchus is…
View original post 1,006 more words